Whiskey Gifts for Her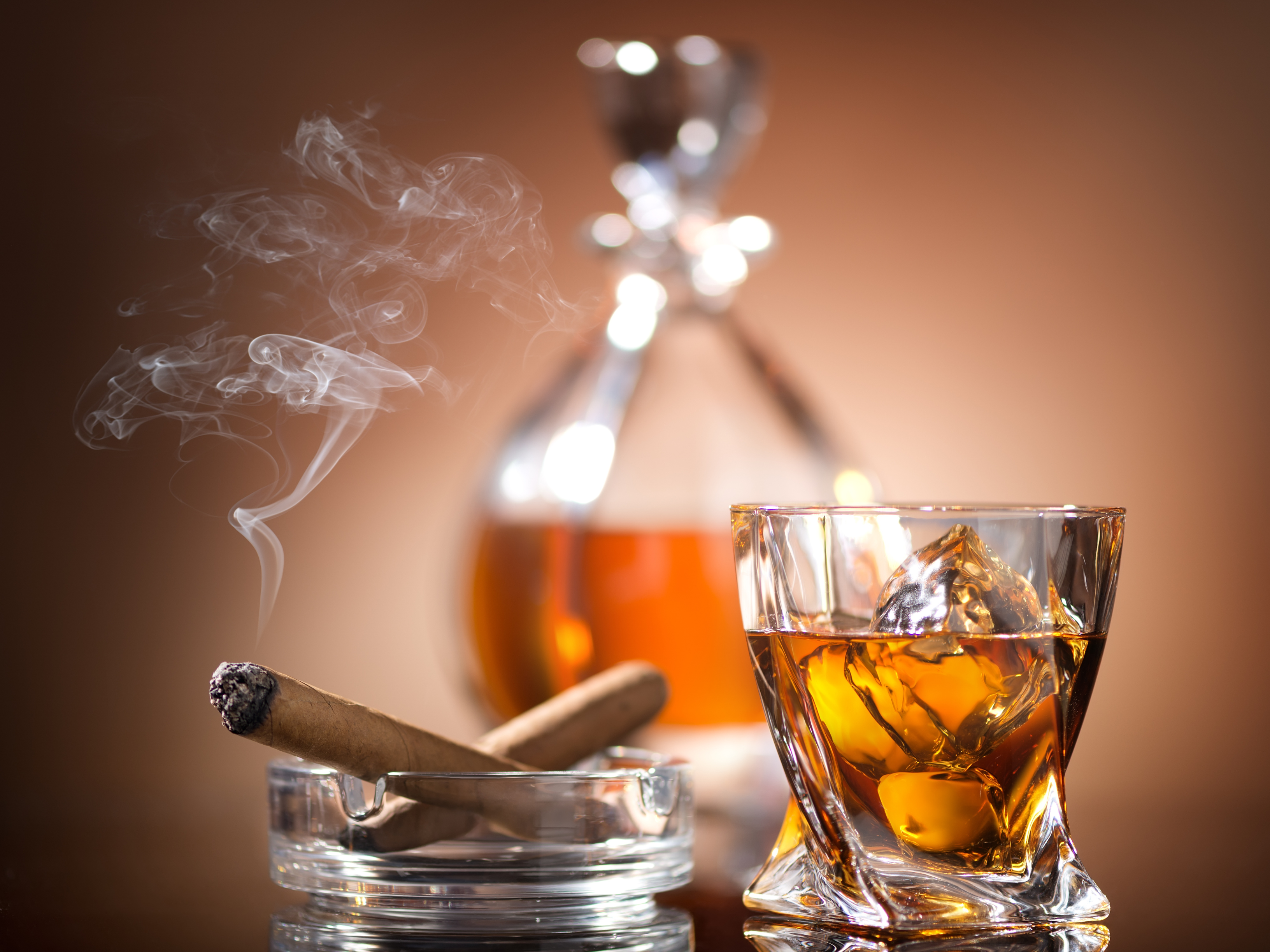 Whiskey lovers know that there is nothing quite like a thoughtful and well-chosen whiskey-related gift when it comes to picking the ideal gift for Dad. Giving him a premium whiskey item would undoubtedly make his day even more memorable, whether he is a seasoned connoisseur or simply appreciates sipping a glass of great spirits at the end of a long day. Let's look at the top 15 whiskey presents that will show your dad how much you value his passion for this ageless libation.
Whiskey Glassware
Elevate the whiskey-drinking experience with stylish and durable glassware, such as Mountain Whiskey Glasses, Unique Crystal Scotch Glasses, and a Whiskey Decanter.
Crystal Scotch Glasses
Whiskey fans and experts will like the stunning Unique Crystal Scotch Glasses. These elegant and precisely crafted glasses are made to improve the tasting experience. They are made of good crystal and have a breathtaking clarity that beautifully displays the deep golden tones of a superb Scotch. Every sip is more enjoyable thanks to the glasses' distinctive form, which allows for the best possible exploration of flavor and scent. These Crystal Scotch Glasses are a must-have for every whiskey connoisseur's collection because they combine elegance, functionality, and beauty. They are perfect for use personally or as a thoughtful gift.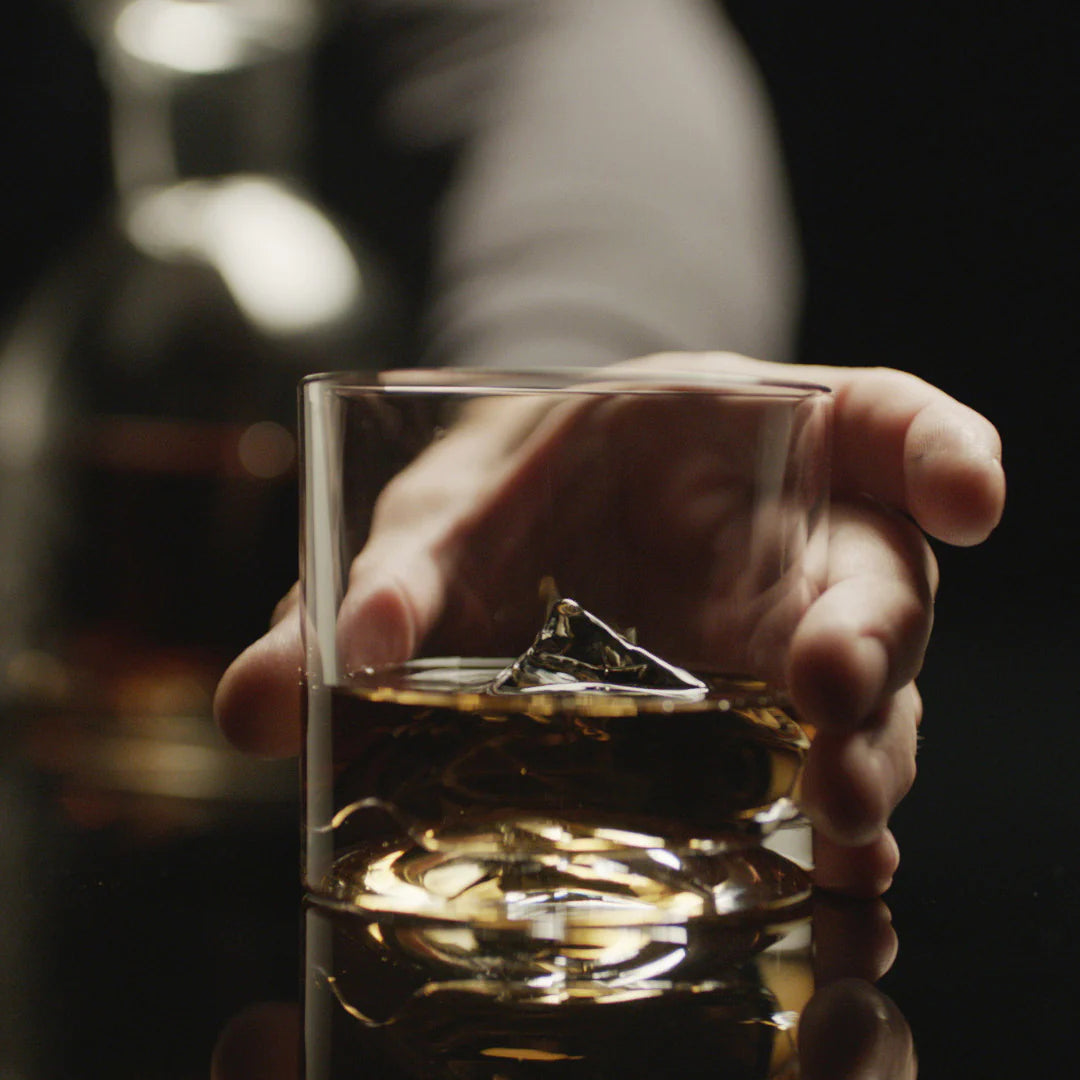 Liiton $29.95- $59.95
Whiskey Decanter Set
The Whiskey Decanter Set is a timeless and sophisticated gift that embodies both style and functionality. This set includes a beautifully crafted decanter and accompanying glasses, creating a complete whiskey serving experience. The decanter itself is a work of art, featuring intricate detailing and a sturdy stopper that preserves the whiskey's flavor and aroma. The accompanying glasses complement the decanter, designed to enhance the visual appeal of the whiskey while providing a comfortable grip. With its elegant presentation, the Whiskey Decanter Set not only adds a touch of refinement to any home bar or whiskey collection but also serves as a conversation starter. It's a perfect gift for whiskey enthusiasts who appreciate the art of savoring and sharing their favorite spirits.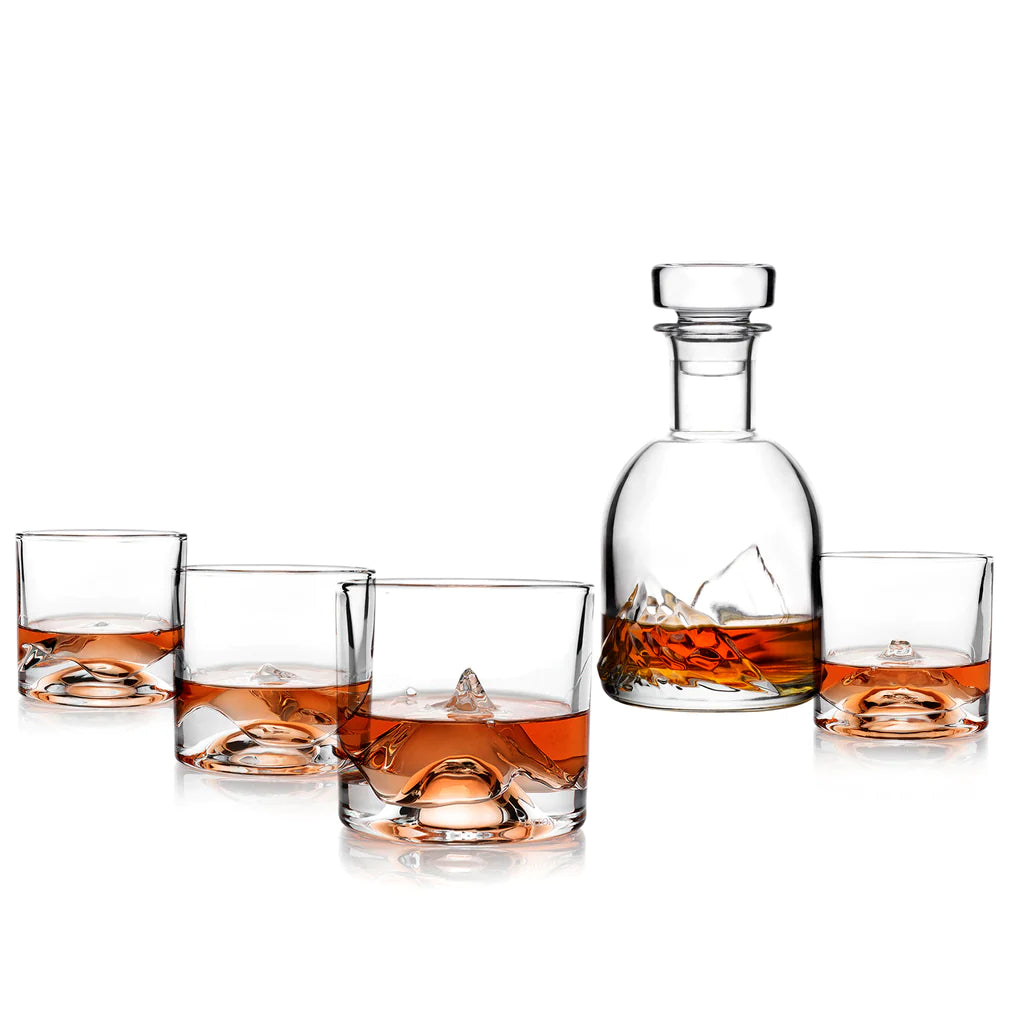 Liiton $149 - $499
Whiskey Drink Accessories
Enhance the enjoyment of whiskey with practical accessories like Whiskey Chilling Stones and the W&P Carry-On Cocktail Kit, designed to bring convenience and flavor to your drinks.
W&P Carry-On Cocktail Kit
The W&P Carry-On Cocktail Kit is the ultimate travel companion for whiskey enthusiasts who enjoy crafting their own cocktails on the go. This compact and stylish kit includes everything needed to create a delightful whiskey-based drink during flights or other adventures. It contains a recipe card, small-batch bitters, a mini bar spoon, a linen coaster, and a tasting guide. With easy-to-follow instructions, the kit allows users to mix their favorite whiskey cocktails effortlessly. Its compact size and TSA-approved components make it a convenient addition to carry-on luggage. The W&P Carry-On Cocktail Kit is a fantastic gift for whiskey lovers who appreciate the art of mixology and enjoy indulging in their favorite libations wherever they may roam.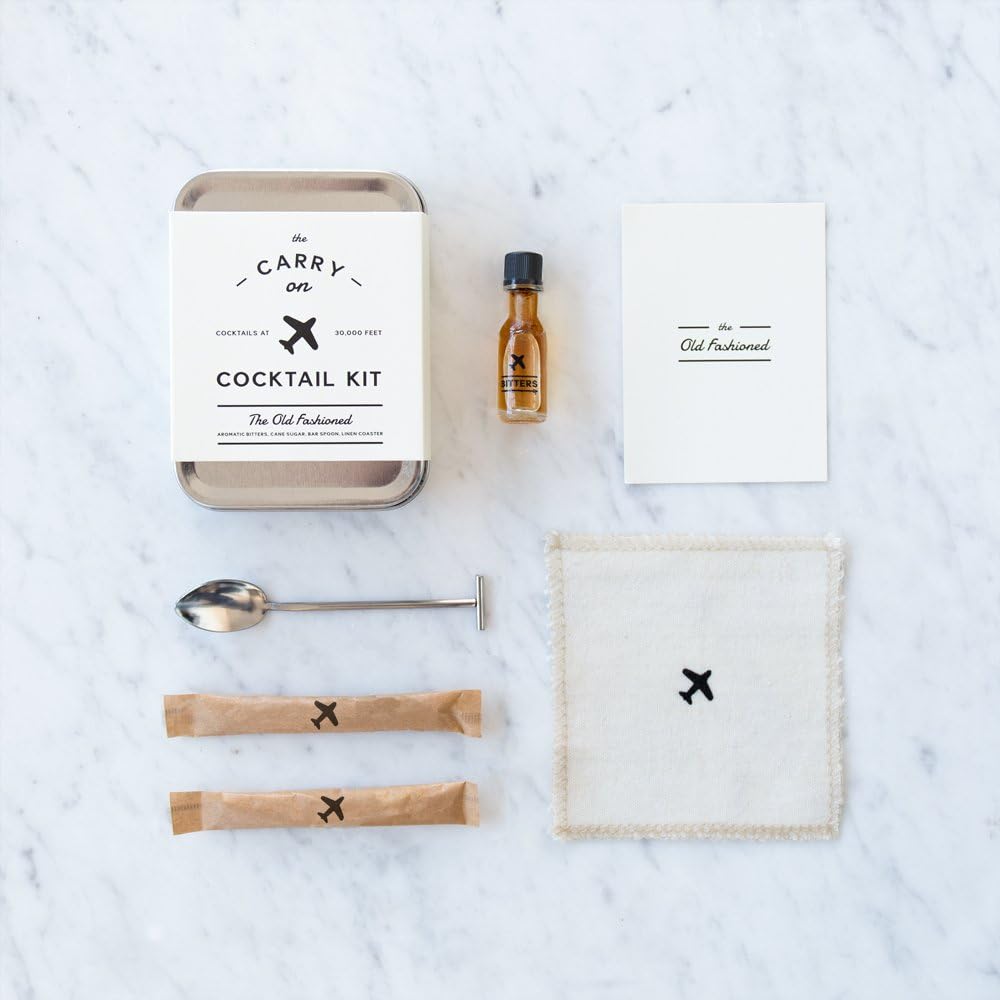 Amazon $26.23
Whiskey Apparel & Accessories
Show off your love for whiskey with trendy apparel options like the Sunshine and Whiskey Tank Top and the cozy Whiskey Weather Crewneck. Don't forget the Gopher Golf Flask for a touch of style on the go
Gopher Golf Flask
The Gopher Golf Flask is a stylish and practical gift for whiskey enthusiasts who enjoy a sip of their favorite spirit while out on the golf course or other outdoor adventures. This flask features a sleek design with a golf-inspired motif, making it a perfect accessory for golf enthusiasts. Crafted with high-quality materials, it offers durability and a secure seal to keep the whiskey or other beverages intact. The compact size and portable nature of the Gopher Golf Flask make it easy to carry in a pocket or bag, ensuring a refreshing drink is always within reach. Whether for a golf lover or an outdoor enthusiast, this flask is a great gift choice that combines functionality with a touch of sporting flair.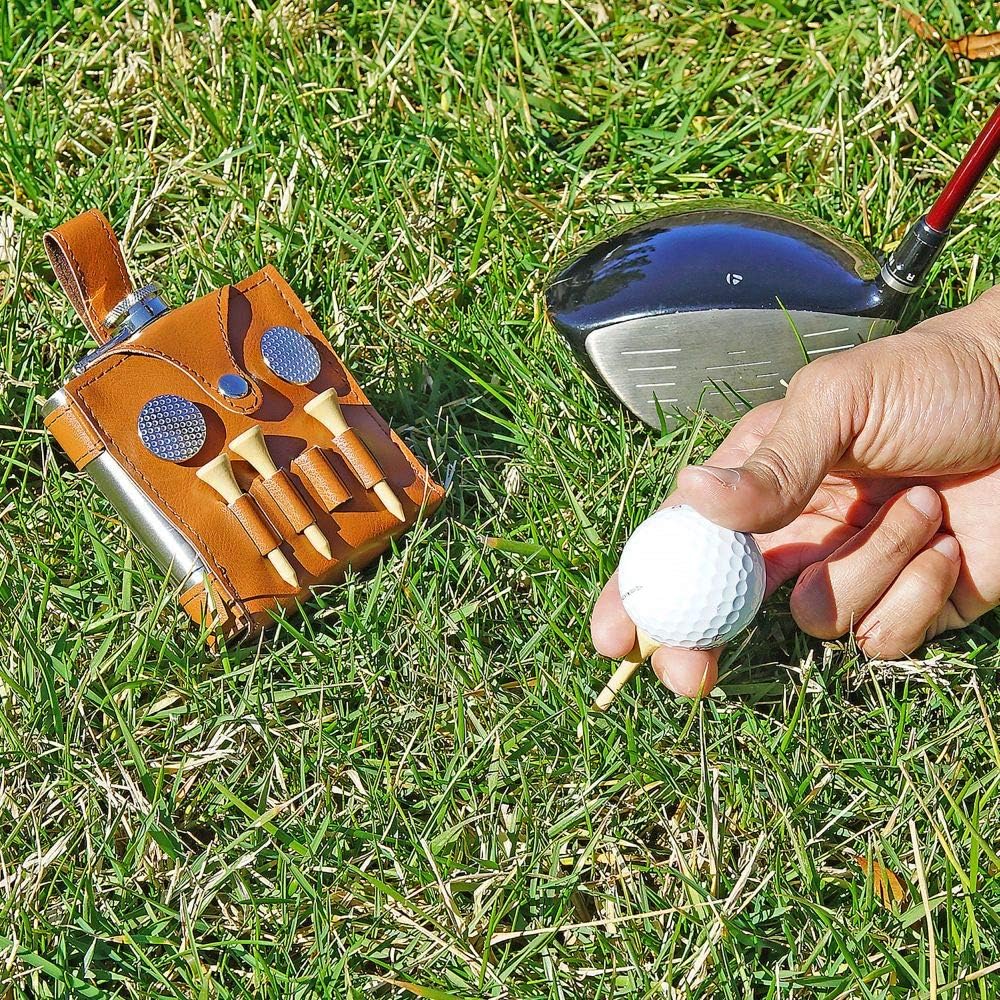 Amazon $53.52
Fine Whiskies
Treat Dad to exceptional taste experiences with the renowned Macallan 25-Year Sherry Oak Single Malt Scotch Whisky and The Character of Islay Whiskey Tasting Set, allowing him to explore a range of exquisite flavors and profiles.
The Macallan 25-Year-Old Sherry Oak Single Malt Scotch Whisky
The Macallan 25-Year-Old Sherry Oak Single Malt Scotch Whisky is a truly exceptional and luxurious gift for whiskey connoisseurs and collectors. This whisky is a masterpiece, aged for a remarkable 25 years to achieve a depth of flavor and complexity that is truly unparalleled. With its deep amber hue and rich aroma, it exudes elegance and sophistication. Each sip reveals layers of flavors, ranging from luscious dried fruits and spices to hints of oak and chocolate. The Sherry Oak maturation process imparts a distinctive character, adding a sublime sweetness and velvety texture to the whisky. The Macallan 25-Year-Old Sherry Oak Single Malt Scotch Whisky is a true statement piece, representing the pinnacle of craftsmanship and refinement in the world of whiskey, making it a remarkable gift for those who appreciate the finest things in life.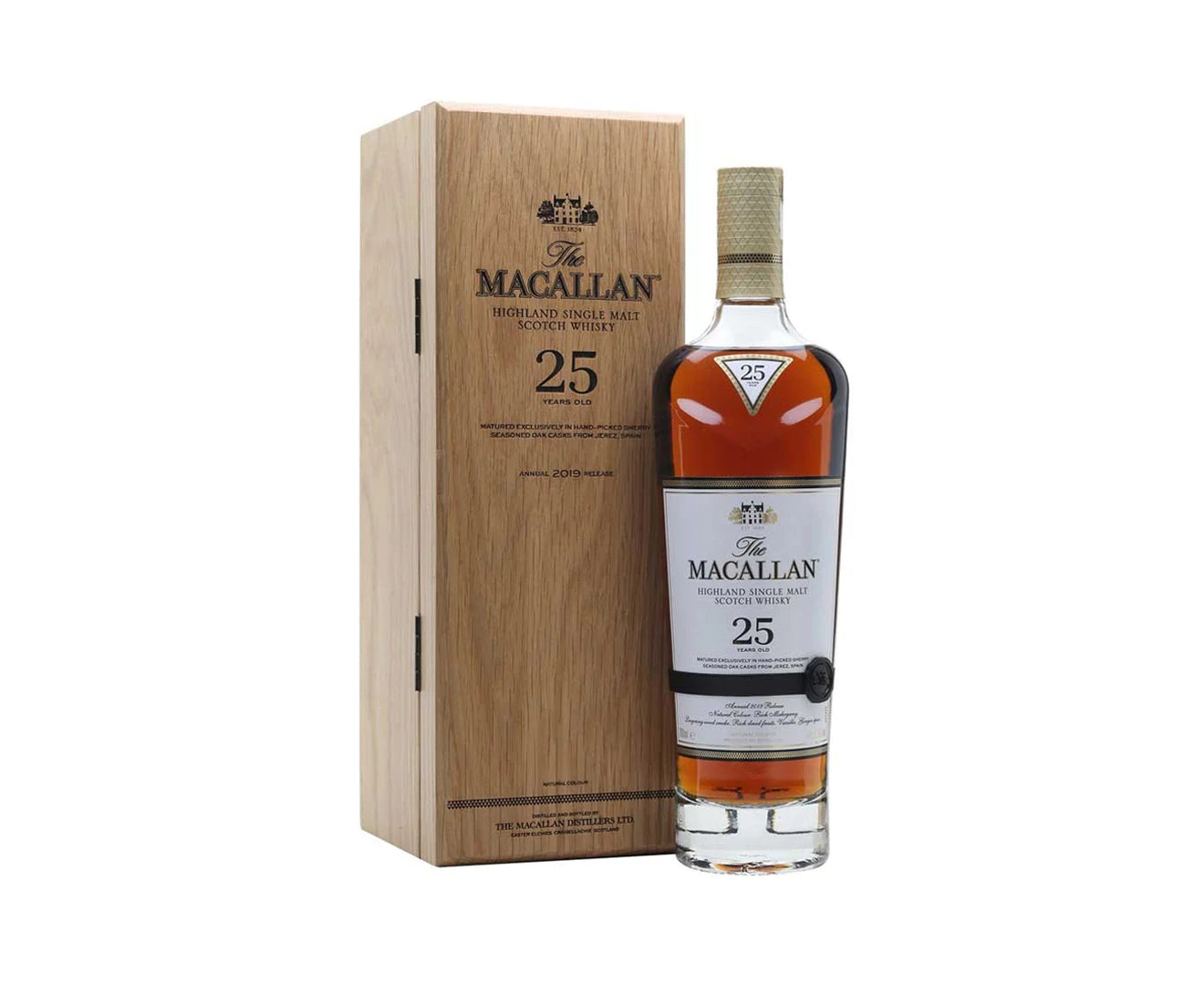 Amazon £2,700.99
Whiskey Food & Drink
Expand your whiskey-infused pleasures beyond the glass with indulgent treats like Tennessee Whiskey Coffee and delectable Bourbon chocolates.
Whiskey Tennesse Coffee
Whiskey Tennessee Coffee is a delightful and unique gift for whiskey and coffee enthusiasts alike. This specialty coffee combines the rich flavors of Tennessee whiskey with the smoothness of freshly roasted coffee beans, resulting in a harmonious and aromatic blend. With its enticing aroma and balanced taste, it offers a delightful fusion of warm whiskey notes and the invigorating qualities of a great cup of coffee. Whether enjoyed as a morning pick-me-up or an after-dinner treat, Whiskey Tennessee Coffee offers a flavorful and comforting experience that is sure to please the senses. It's a perfect gift for those who appreciate the art of flavor exploration and enjoy the best of both worlds—whiskey and coffee—in one exceptional blend.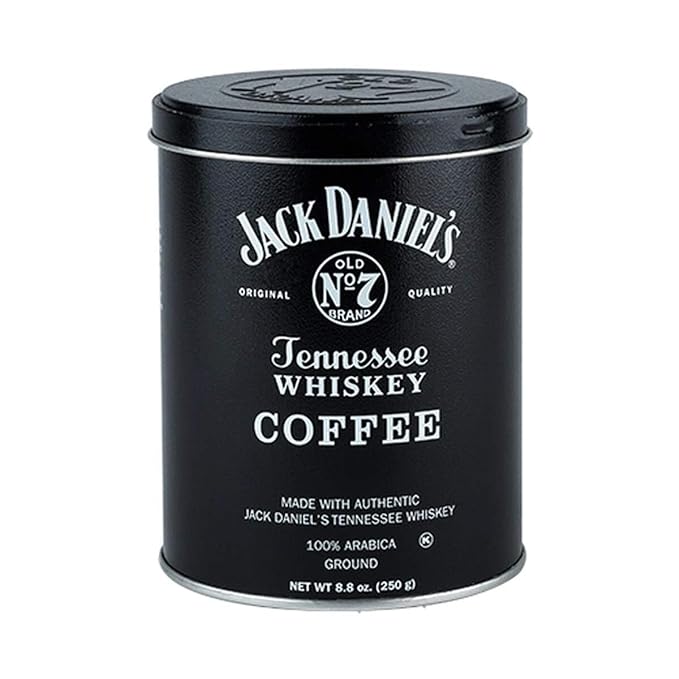 Amazon $45.15
Bourbon Chocolates
Whiskey and chocolate lovers will love receiving Bourbon Chocolates as a gift. These handcrafted sweets create a perfect balance of sweetness and refinement by fusing the rich flavors of premium chocolate with the smoothness of bourbon. Each piece of chocolate is thoughtfully infused with bourbon, allowing the many flavors to coexist harmoniously. Every time you take a mouthful, the bourbon's subtle warmth and complexity improve the chocolate's creamy texture and delicious flavor. When shared with loved ones on special occasions or enjoyed as a personal treat, bourbon chocolates provide an opulent and savory experience that makes them a wonderful present for individuals who value life's finer pleasures.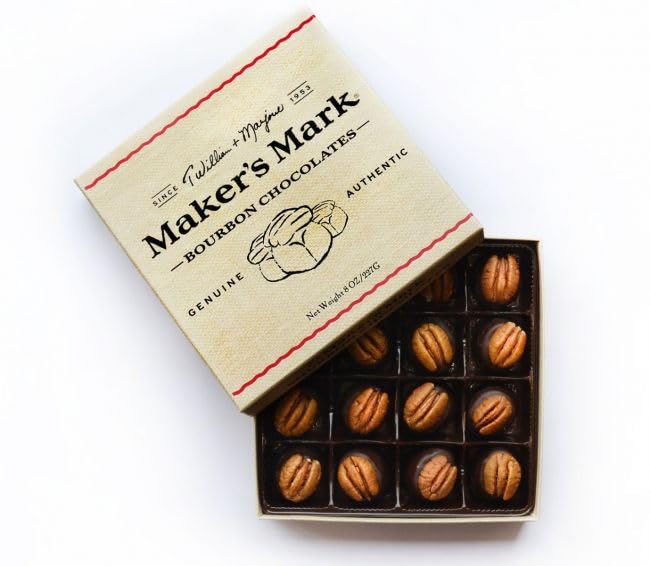 Amazon $49.99
Home Decor
Set the mood with the inviting aroma of a Whiskey-Scented Candle, adding a warm and cozy atmosphere to any whiskey enthusiast's living space.
Whiskey Scented Candle
The Whiskey Scented Candle is a compelling present that infuses any environment with the alluring scent of whiskey. This candle, which was made with great care and attention to detail, perfectly captures the flavor of old whiskey, evoking images of a warm and inviting whiskey lounge. A delicate and elegant aroma is released into the air as the candle burns, with notes of wood, caramel, and spices. A cozy atmosphere is created by the flickering flame, making it easy to unwind and enjoy the time. The Whiskey Scented Candle is the ideal present for whiskey lovers who value the sensory experience that comes with their preferred alcohol. It provides a special opportunity for users to fill their surroundings with the seductive aroma of whiskey.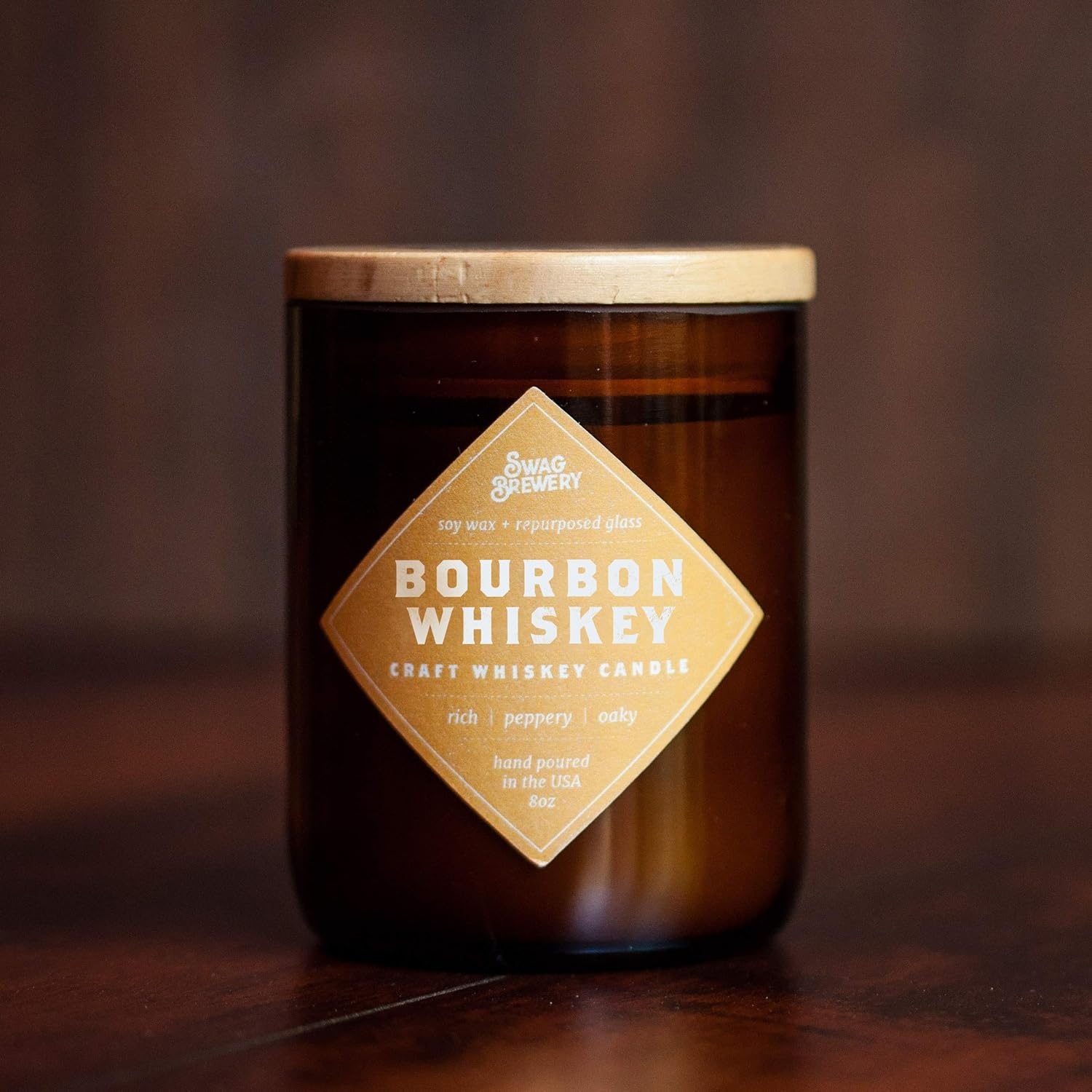 Amazon $19.99
Personal Care
Pamper yourself or someone special with the luxurious Soap Distillery Whiskey Soaps Set, crafted to bring a touch of whiskey-inspired indulgence to your daily routine.
Stanley Classic Flask
The Stanley Classic Flask is a timeless and practical gift for whiskey lovers on the go. Crafted with durable stainless steel, this flask offers a sleek and rugged design that can withstand any adventure. Its compact size and leak-proof construction make it perfect for carrying your favorite whiskey, ensuring a satisfying sip whenever and wherever you desire. The wide mouth allows for easy pouring and cleaning, while the integrated cap ensures a secure seal. With its iconic and classic design, the Stanley Classic Flask is not only a functional accessory but also a stylish statement piece. It's an ideal gift for whiskey enthusiasts who appreciate the convenience and portability of enjoying their favorite spirit while exploring the great outdoors or simply on-the-move.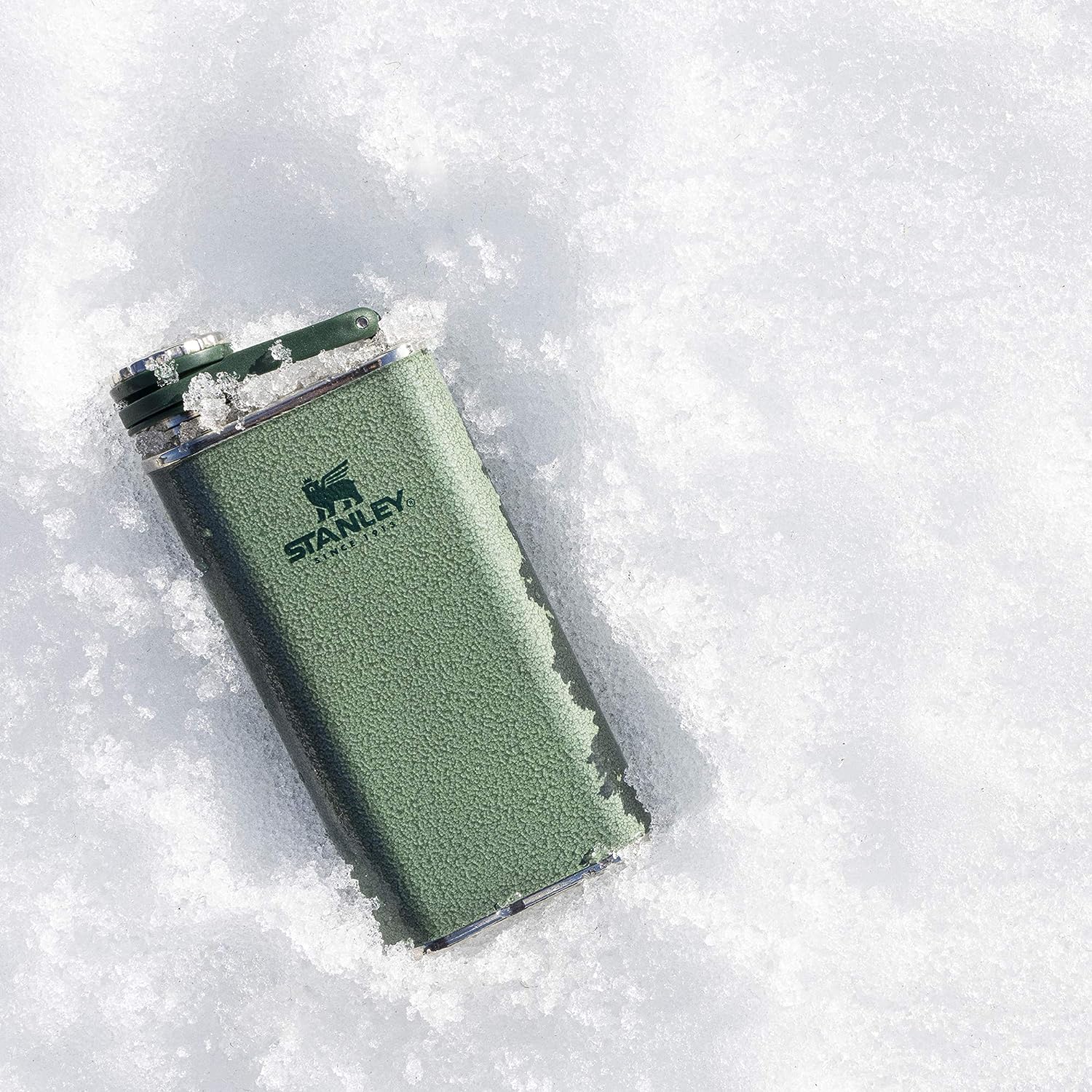 Amazon $35.34
Whiskey Gifting sets
Present a thoughtfully curated gift with sets like the Soapstone Whiskey Stone Gift Set and Whiskey-Infused Toothpicks, which combine practicality and novelty for an unforgettable whiskey experience.
Soapstone Whiskey Stone gift
The Soapstone Whiskey Stone Gift Set is a thoughtful and practical gift for whiskey enthusiasts who enjoy their drinks chilled without dilution. These natural soapstone cubes are designed to be chilled in the freezer and then added to a glass of whiskey, providing a gentle cooling effect while preserving the drink's flavor and aroma. Unlike traditional ice cubes, these whiskey stones won't melt and dilute the whiskey, allowing for a pure and undiluted drinking experience. The set typically includes a set of whiskey stones and a storage pouch, making it convenient for both home use and travel. The Soapstone Whiskey Stone Gift Set is a great choice for those who appreciate the details of whiskey enjoyment, offering a stylish and reusable alternative to ice that allows for a personalized and consistent chilled whiskey experience.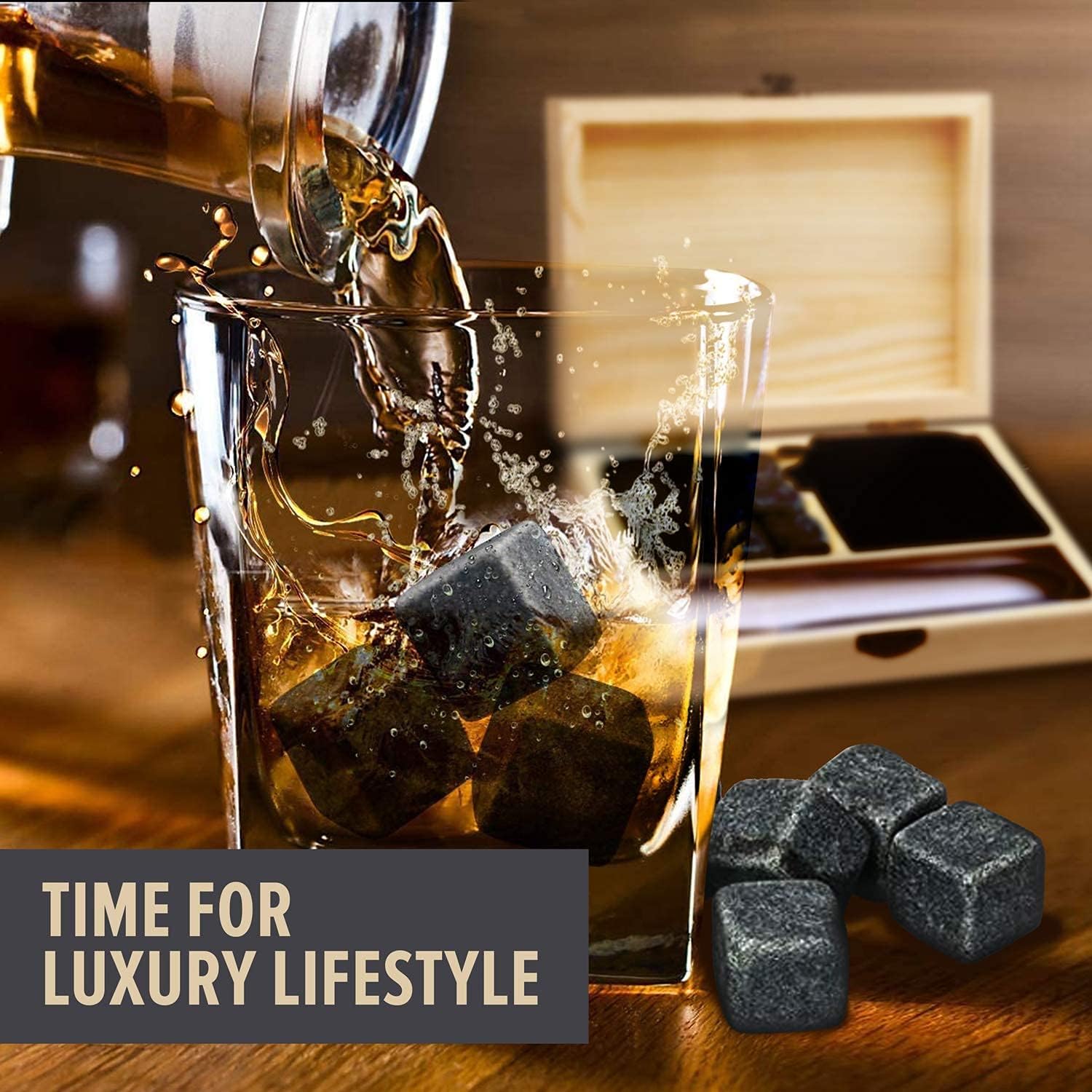 Amazon $20.83
Whiskey Infused Toothpicks
Whiskey-Infused Toothpicks are a unique and flavorful gift for whiskey enthusiasts who enjoy adding a touch of their favorite spirit to everyday experiences. These toothpicks are crafted with premium birch wood that has been infused with the essence of whiskey, offering a subtle and enjoyable burst of flavor. Each toothpick provides a delightful and aromatic experience, allowing whiskey lovers to savor the hints of oak, caramel, and spices with every use. Whether used as a palate cleanser, a breath freshener, or simply for the pleasure of indulging in the nuanced flavors of whiskey, these toothpicks provide a unique and convenient way to enjoy a hint of whiskey throughout the day. The Whiskey-Infused Toothpicks are a great conversation starter and a perfect gift for those who appreciate the finer details and the subtle infusion of their favorite spirit into their daily routine.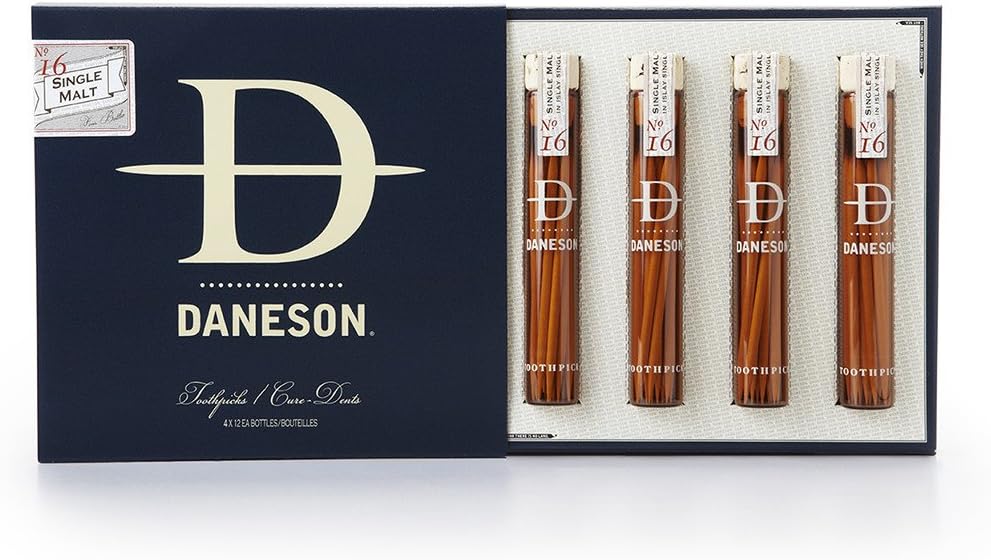 Amazon $22
Whiskey Books
Expand your knowledge and appreciation for whiskey with the Whiskey Master Class Book, offering insights and expertise from industry experts to enrich your whiskey journey.
Whiskey Testing Course
"Whiskey: A Tasting Course" is a hands-on guide designed to educate you about the world of whiskey tasting. This interactive book takes you on a detailed journey, covering everything from the basics of whiskey production to exploring different flavor profiles and recommending pairings. By employing an engaging approach and providing practical activities, this course helps refine your palate, enhance your enjoyment of whiskey, and elevate your knowledge as a whiskey enthusiast. Whether you're a beginner or a seasoned aficionado, this resource is a valuable tool for sharpening your tasting skills and discovering new ways to savor the complexities of whiskey.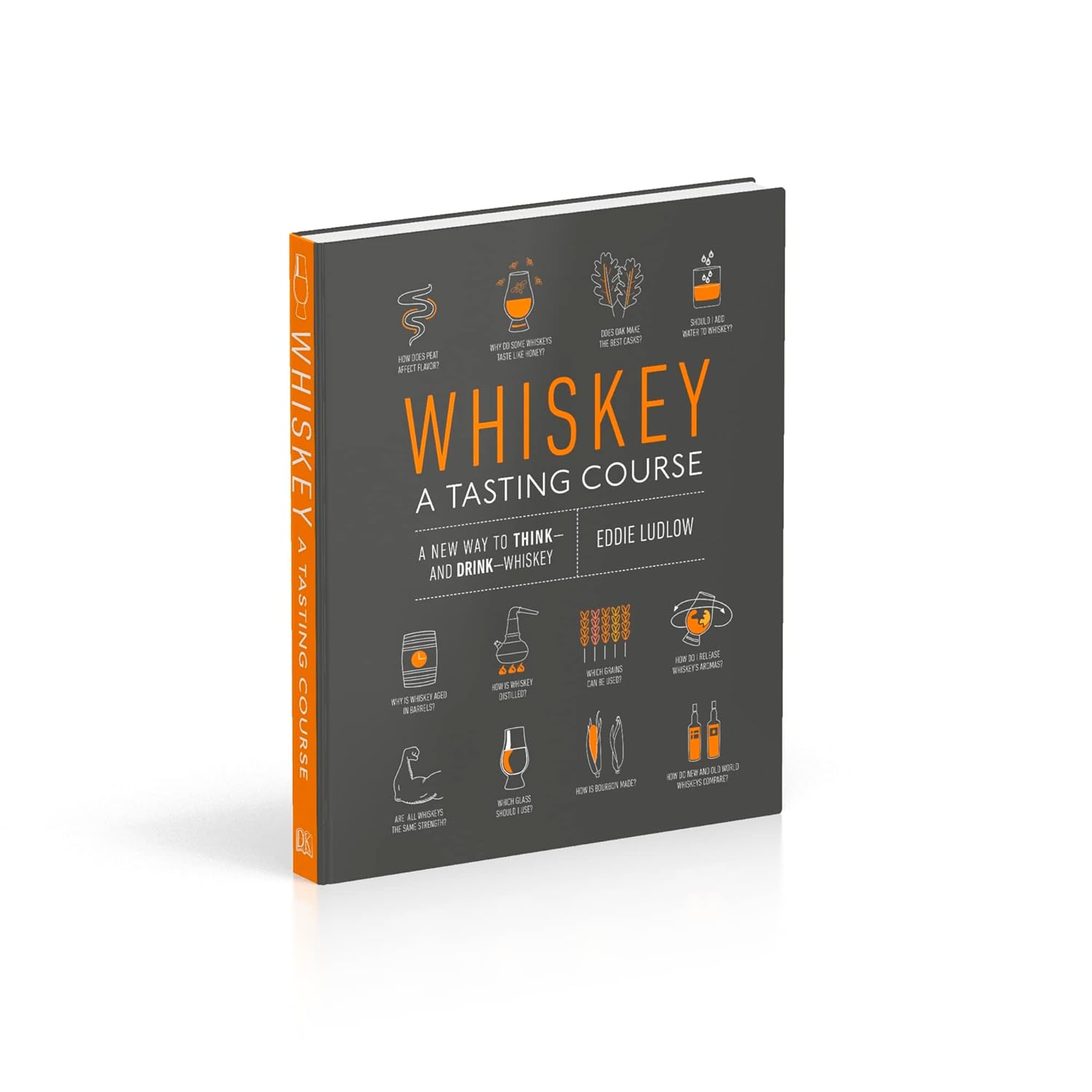 Amazon $19.49